You wouldn't expect anything else other than a full bodied, full flavoured malty Scottish Breakfast tea - so we won't disappoint you! Our Scottish breakfast is a black tea blend with hints of cask oak from India, China and Kenya. Especially delicious with milk, the Assam malty flavour is enhanced by China Black Keemun Gold and a Chingwo County Orange Pekoe. Aye, it's a grand cuppa tea!
Reviews
Customer Reviews
24/02/2020
Kerry W.
United Kingdom
I recommend this product
Just right
The nice strong cup of tea I've been looking for - just right! I found this more balanced than the Irish Breakfast, which I found a little too 'heavy' (that's the only way I can think to describe it!).
23/10/2019
Janet I.
United Kingdom
Scottish Breakfast Tea
Having tasted this excellent tea in a restaurant, I was delighted to find that I could order it online from Teas Direct. The ordering process was easy and delivery was quick. Teas Direct later informed me that postage was free on orders over £10 which was great! This should be made clear on the website though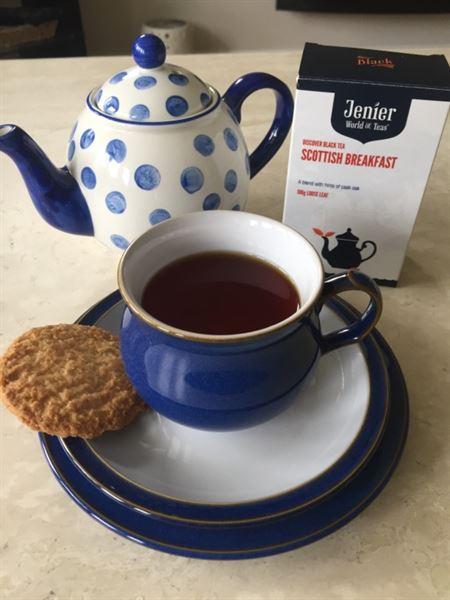 30/05/2019
Hazel L.
United Kingdom
Lovely, tasty tea
I first tasted this tea in a cafe in Balmaha, Scotland, and thought how nice it was. I love the large leaves (no need for a tea strainer). The tea is tasty without being overpowering. Just what I need to start the day.
03/12/2018
Jalna R.
United Kingdom
Lovely cup of tea
A lovely full flavoured refreshing cup of tea. Full bodied yet not at all bitter or tannin taste. Don't just save it for breakfast :o) Great service and delivery - thank you.
16/08/2018
Debbie B.
United Kingdom
Beautiful tea
I have been looking for Scottish breakfast tea for ages. I thought I would try a mini bag before investing in a bigger bag. All I can say is it is much better tasting tea than English breakfast tea. The flavour is malty and stronger than English breakfast tea. If I had a chose I would buy the Scottish breakfast to wake me up in the morning.